Be Different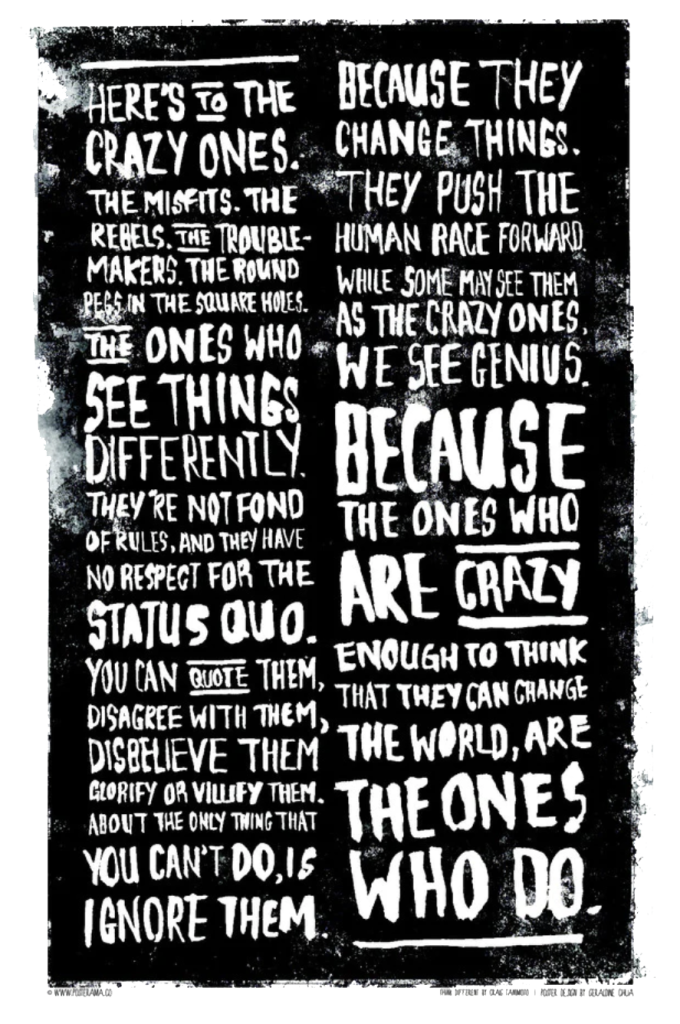 Perhaps one of the greatest compliments one can receive is "You're different."
We often perceive being different as a negative thing, but I'd rather be different than the same any day.
One of my favorite advertising campaigns was Apple's "Think Different" campaign, that ran from 1997 to 2002. Perhaps it resonated with me because it coincided with my college years, a very formative time in my life where I wanted to do great & big things. (I still do, by the way) I don't know about you, but I still got that hunger.
One of the reasons why this campaign was so wildly successful and unique was because it focused not on product, but on people. Amazing people throughout history that touched and changed our lives. The ones we originally called the troublemakers, the misfits, the outliers. These are still the most interesting people in my book.
But they were certainly unique. We often celebrate entrepreneurs and pioneers and innovators like Steve Jobs and Bill Gates for all their massive accomplishments. They stand out because there's only one Steve Jobs and there's only one Bill Gates. One Pablo Picasso. One Elon. One Elvis. One Emily Dickinson. One Mother Teresa.
But guess what, there's only one you as well.
For the sake of this writing, I'm going to tweak the campaign title from "Think Different" to "Be Different".
In any business, organization, company, ministry, institution or otherwise, you should be different.
In business, there's always this constant struggle of trying to find that one thing that's different about you. The one thing that stands out, separates, distinguishes, that's unique. Why should people keep coming back? In marketing we try to excavate and land on it all the time. In business terms, we call it your unique value proposition (UVP).
UVP is defined as "A clear statement that explains the benefits of your product, how it solves customers' problems, why it is different from the rest, and why customers should buy it." Your brand's value proposition is a promise of value to be delivered. It's the primary reason a prospect becomes a fan. I would add it's a quest to becoming the most authentic expression of you and your business/brand.
I'm speaking to business owners, startups, entrepreneurs, leaders right now. You are the unique value proposition to your organization. You are the secret sauce.
Don't try to be like everybody else. It's not exciting and it's not adventurous. Plus it's been done before.
Sure, there's 1 million donut shops out there, but there's never been your donut shop. Yes there's 1 million landscape companies out there, but there's never been your landscape company. The way you do it, envision it, and what you bring to the table has never been done before. The way that you write, craft, shape, dream, lead, and conduct culture has never been seen before.
I've heard of several authors who get discouraged from writing or finishing their book because their particular topic or subject of interest has already been covered a thousand times before. There's already a ton of books our there on….parenting, gardening, playing guitar, starting a business, self help, healthy eating, etc. Why should I even start? Why does it even matter? Because there's never been a book written from your point of view—your experience, insight and expertise. WITH YOUR VOICE.
Your flair, style, culture, creativity, ideas, innovation, imagination, instinct, insights, imprint, process, resourcefulness, and daringness are what make your business unique and stand out from the others! The way you do it has never been done before. Your book has never been written.
You are the unique value proposition. You are the secret sauce.